Surrey council job share 'saves taxpayers £100k'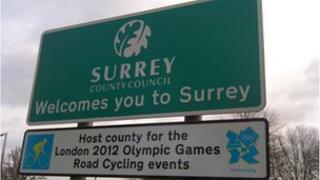 A staff sharing scheme between two Surrey councils will save taxpayers about £100,000, the authorities say.
The interim chief executive of Mole Valley District Council will continue to work part time as the strategic director of Surrey County Council.
Yvonne Rees will combine both roles until March 2014, Mole Valley council said.
Ms Rees oversaw the project between the two councils to bring the Olympic cycle road race to the county.
David Hodge, leader of the county council, said: "This ground-breaking arrangement has already benefited local residents.
"Our approach is all about everyone pulling together as one team, whether we're a council, the police, or a business, so it's important to continue to build these strong relationships."
Ms Rees said she would be working on "joining up the staff and resources of both councils for the benefit of communities".