Erotic fiction fuels Surrey library loans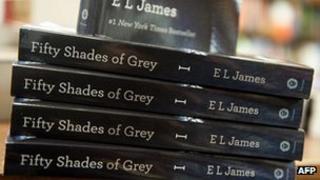 "Racy lit" has led to a surge in library loans in Surrey as romance novels topped the list of the most popular e-books borrowed last year.
Councillor Helyn Clack said the county's love of erotic fiction and a boom in tablet computer sales had been credited with an 18% surge in e-loans.
Surrey saw 19,847 e-loans last year compared with 16,231 in 2011.
Last year, Surrey became a UK lending hotspot for loans of EL James's Fifty Shades erotic romance trilogy.
Ms Clack said: "Erotic fiction seems to be going through a revival at the moment which is fuelling e-book borrowing.
"Romance novels are a guilty pleasure for some and they like the fact you can't judge an e-reader by its cover."
She said the popularity of e-readers and tablet computers as Christmas presents had also helped to make January Surrey's busiest e-book month so far, with 2,469 e-book loans.
Bedded by billionaire
Last August, libraries in Surrey accounted for 20% of all UK loans of the Fifty Shades series, Surrey County Council said.
At the time, the council stocked up on printed copies of the trilogy, buying 200 extra copies of each book.
Ms Clack said Surrey was now at the forefront of negotiations with publishers to increase the range of e-books available through libraries.
"The way people borrow and read books is undergoing a digital revolution, sweeping both the library world and the publishing industry," she said.
Romance novels topped Surrey e-book loans last year, with At the Argentinean Billionaire's Bidding in top place, followed by Bedded by the Greek Billionaire, and Beauty and the Billionaire in third place.
Dr Douglas Cowie, a lecturer in creative writing at Royal Holloway London University, in Egham, said commercial fiction, romantic or otherwise, was usually a popular library choice.
He said: "These statistics show that that the public library is far from dying, despite rumours of the end of their usefulness and the government cuts to their valuable services. It is clear that they very much still have a place in society."