New plans after Caterham mansion demolished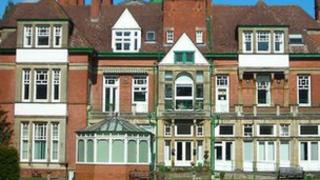 Revised plans for a care home on the site of a historic house in Surrey are to be unveiled by developers following demolition of the property.
Caterham residents campaigned to save Harestone House, in Harestone Drive, but the 134-year-old building was knocked down two weeks ago.
Independence Homes said it had become dangerous following metal thefts and subsequent flooding.
Previous plans for a care home, offices and homes on the site were rejected.
Harestone House was used as a hospice by Marie Curie Cancer Care until 2009.
It was not listed because it had been modernised and changed but Tandridge District Council said the house was one of the few remaining links to the history of the area.
Redesigned layout
Independence Homes, which provides care for people with epilepsy, is developing the site.
Its plans for a 20-bed care home, offices, 25 flats and five houses were rejected by a planning inspector following an appeal last year.
Spokeswoman Anna Richardson said the company had redesigned the layout to protect trees on the site and brought in specialist landscape consultants.
"We've taken on board the Inspector's findings on our earlier proposals and the comments received from local residents that they weren't adequately consulted previously and are now seeking to engage more fully with our neighbours and interested parties," she said.
"We've used the time since the appeal to achieve a number of improvements to the proposals."
She said because the demolition had taken place, building work could start promptly once planning consent was secured.
The new plans will be show on Tuesday evening at Soper Hall, in Harestone Valley Road.