Camberley campaign seeks 50 minute rail link to London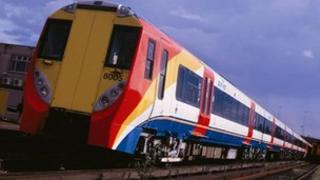 A Surrey residents' association is campaigning to restore a rail link axed in the 1960s to cut journey times into London.
The Camberley Society wants to be able to travel from Camberley to Waterloo in under 50 minutes by restoring the rail track between the town and Woking.
Spokesman David Powell said the journey from Camberley to Waterloo currently takes 1 hour 15 minutes via Ascot.
Surrey Heath Tory MP Michael Gove said he supported the campaign.
People travelling from Camberley to London now have to take the slow train or drive five miles to Farnborough to get a train which takes 43 minutes.
The Camberley Society said the railway lines for the Camberley to Woking link were in place until 1968, and one of the track beds was still visible.
'Political pressure'
It is looking for sponsors to help put together a business case for restoration of the line and volunteers to carry out market research.
"If there is a good case, with good public support and effective political pressure, we can get the government to implement it within five years, not withstanding that it is likely to cost upwards of £15m," said Mr Powell.
The society said it has had expressions of support from councillors on Surrey County Council (SCC) and Surrey Heath Borough Council.
Surrey Heath said it had long sought to improve rail services and connections in the borough and believed the link to Woking was a suitable project for further investigation.
It said it was working with SCC, which is developing a wider rail strategy.
Feedback welcome
A spokesman for SCC said: "We'd very much like to hear from the Camberley Society as part of the consultation to help shape the future of Surrey's railways."
Mr Gove's spokesman said: "Michael wholeheartedly supports the Camberley Society's campaign for an improved railway service, which includes the restoration of the Camberley-Woking direct rail link."
South West Trains, which runs services in the Camberley area, said it welcomed feedback from passengers about how it could improve services.
A spokesman added: "However, changes to the infrastructure will need to be strategically reviewed in the long term and be commercial sound.
"Ultimately this is something to be decided jointly with the government as part of a long-term plan."