Cash to help revive Surrey's 'lost' Deepdene estate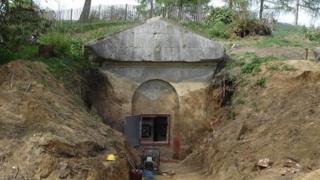 The revival of a 19th Century estate in Surrey has taken a step forward with a £123,700 lottery grant.
Funds have been allocated to the Hope Springs Eternal project to restore the Deepdene Estate, near Dorking.
It was owned by a Regency patron of the arts but was broken up in the early 20th Century, Mole Valley council said.
The last remaining 70 acres are "disjointed and overgrown" but the council wants to restore the estate and The Hope Mausoleum, its centrepiece.
The authority has described Deepdene as one of southern England's "great lost landscapes" and a place of national importance.
House demolished
According to the council, the estate belonged from 1808 to connoisseur and collector Thomas Hope, who remodelled the house, installed statues and built a temple.
A century later, composer Ralph Vaughan Williams campaigned to rescue it from suburban development, but by 1897 parts of the estate became a golf course, the house was sold to Southern Railways and demolished in 1969 and the mausoleum was sealed in 1957 and buried soon after.
The remaining land at Deepdene, named after its dell, a steep-sided narrow dene, stretches from Dorking to Brockham.
Mole Valley council said the cash would be used to carry out surveys and consultations to develop plans to apply for further funding at a later date.