Local elections 2013: What they could mean for Surrey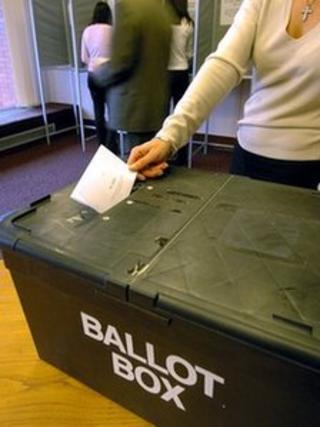 The local elections on 2 May are almost under way but what will they mean for Surrey?
The Conservatives have been in overall control of the county council for the past four years, with 55 councillors.
The party claims it has improved the efficiency of the organisation and has identified savings of £239m.
It is pledging to do more to fix the state of the roads and to provide more school places. The party has also apologised after its candidate for Shalford failed to get registered in time, meaning there will be no Conservative representative to defend the seat.
The Liberal Democrats have 13 councillors and are the Conservatives' main opposition. They party is fielding candidates in 77 of the available 81 seats.
Roads are also a priority issue and one of the group's "six to fix", a list which also includes planning for school places, having libraries run by staff rather than volunteers and better public transport.
Resident association opposition
Lib Dem activists say they believe residents are pleased with what they are doing locally despite the party's position in the national polls.
The UK Independence Party, which has one councillor, is putting up candidates in all 81 seats and say they are standing as the main alternative to the coalition.
The two most important local issues for the party (once again) are the state of the roads and having lower council tax rates. The group says it is confident it can make gains.
Labour also believes it can add to the seat it currently holds. The party has based its campaign around protecting public services and the NHS.
As with the other parties, Labour says the issues of school places and the state of the roads keeps coming up on the doorstep.
Across Surrey, a number of councillors, who stand as independents or represent residents' associations, form the second largest opposition group.
They say they want to represent people purely over local issues and to make sure Surrey County Council is run in a cost-efficient way. They argue that because they are not linked to a national political party they are not pressured from outside.
Local elections will take place in 11 Surrey districts on 2 May