Surrey Cherkley Court plans go to judicial review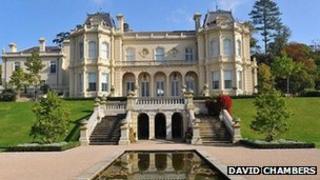 A row over plans to turn the former home of press baron Lord Beaverbrook into a hotel and golf course will go to a judicial review later this year.
The Cherkley Campaign, which is fighting the plans for Cherkley Court in Surrey, went to the High Court to seek permission for a further hearing.
They were backed by Mr Justice Collins who said they had "arguable" complaints that should be fully aired.
Mole Valley council, which approved the plan, had said it had many advantages.
The local authority has previously said the development of the estate near Leatherhead would see the privately-owned house reopen to the public, provide new rights of way and create jobs.
Health club and spa
The Cherkley Campaign, whose supporters include the Campaign to Protect Rural England, have raised concerns about the impact on the landscape and have questioned the need for a golf course.
Cherkley Court, the main house on the 375-acre Cherkley Estate, was built in the 1870s.
It was bought in 1911 by Canadian businessman Max Aitken, who owned the Daily Express and became Lord Beaverbrook and who lived there until he died in 1964, the judge was told.
The estate is now owned by Longshot Cherkley Court, which was given permission last year to develop a golf course and hotel at the site, including a health club and spa.
Cherkley Court was closed to the public in 2009 and put up for sale the following year with an asking price of £20m.