Surrey growers lose thousands after cold spring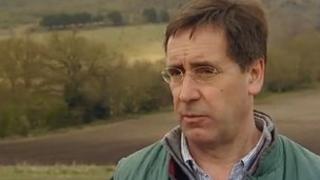 Growers in Surrey say they will suffer losses of tens of thousands of pounds as a result of last year's wet summer and the cold start to spring.
Farmer Laurence Matthews said he would be lucky to harvest 25 acres of the 400 acres of oilseed rape planted in the late summer and autumn last year.
"We are going to be about 400 tons of oilseed rape down and the price is currently about £300 a ton," he said.
"Do the maths. That is quite a lot of money."
The Matthews family has worked the land at Manor Farm in the Surrey Hills, near Dorking, since 1935.
Mr Matthews said even the 25 acres of oilseed rape that was growing was stunted.
Higher price
"It is only a few inches high rather than a couple of feet - it is just not there."
He added: "This area is generally a patchwork quilt of different colours and we should be seeing areas of yellow flowers but they are just not there at the moment.
"We will recoup some of the losses because with the little bit we have got left we will obtain a higher price - that is supply and demand."
At Woodlark Nursery, near Hersham, which has two acres of glasshouses and polytunnels most of the spring bedding plants remain unsold after the weather put off gardeners.
"We need to sell all this crop in the next 10 days because I have the next crop coming in," said spokesman Colin Edwards.
"We are having to sell it at half price."
He said the nursery stood to lose up to £80,000.
But at Denbies Wine Estate in Dorking, the cold weather might be a blessing after the crop suffered in last year's wet summer.
"The cold winter gets rid of all the pests and diseases out in the vineyard," said general manager Chris White.
"The colder March means that the vines stay dormant for longer.
"The window for an early frost becomes that much shorter so you narrow your risk down that much more."