Dianna Gwilliams first woman dean of Guildford Cathedral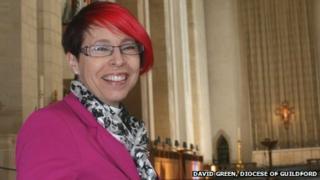 Guildford Cathedral has announced its new dean will be a woman after the Queen approved her nomination.
The Very Reverend Dianna Gwilliams is the fifth woman to be appointed to the post in the Church of England.
She was born in Colorado, USA, and is currently a vicar in Dulwich having just completed a year as acting Archdeacon of Southwark.
Dean Gwilliams said she felt "hugely privileged" to become the new Dean of Guildford Cathedral.
She said: "I'm looking forward to working very closely with the chapter and cathedral community, to serve Guildford as best we can.
"I'm very confident about the future of the Church of England and what we have to offer."
The Bishop of Guildford, the Rt Revd Christopher Hill, said Dean Gwilliams stood out from the rest.
"She was an outstanding candidate at interview," he said. "The cathedral faces great challenges in the future and I have the utmost confidence in her ability to lead an already excellent team."