Surrey Police 'numpty' Facebook site 'success story'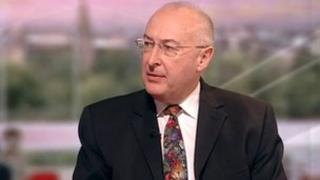 A police Facebook page that has been criticised for using language like "Billy burglar" and "numpties" has been defended by Surrey's police and crime commissioner (PCC) as a success story.
The Tandridge Beat page has more than 1,800 followers but the Taxpayers' Alliance said it turned criminals into "comic book characters".
PCC Kevin Hurley said the page helped police to engage with young people.
He said: "I'm all for this and we will be doing a lot more of it."
Jonathan Isaby, political director of the Taxpayers' Alliance, a right-wing pressure group campaigning for lower taxes, said the page had useful features including public service information, road disruption, and witness appeals.
'Jolly jape'
But he described police and staff writing poetry as "a waste" and added: "You've got the police referring to burglars as Billy burglar, which as far as I'm concerned is kind of turning them into a kind of almost comic strip character.
"Would you see them calling someone Kenny kidnapper or Ricky rapist?
"I wouldn't expect that for a minute, so why should we make a joke about someone who has violated someone's home and stolen their goods?"
He said he accepted the importance of engaging with people, but added: "My biggest concern is the way in which it all seems a jolly jape for the these policemen. They refer to their job as a game of Cluedo.
"If you've just been burgled, or if you've just been violently assaulted, it's not a game, it's a very serious matter."
But Mr Hurley said: "We've got nearly 2,000 local people listening in to what the police have got to say. We have real problems reaching out to young people. Facebook is the medium that they listen to."
He added: "You need to speak in exactly the kind of language that young people use, so we will call thieves 'numpties'.
"I'd call them anti-social heartless selfish parasites but for young people a numpty works for them, and if Billy burglar works for them that's good.
"It is a good way of keeping the public informed, particularly the younger ones. They're buying into it. I'm all for it."
'On it'
The commissioner said the force recruited sensible, intelligent, educated people to be police officers and he wanted them to engage with the public immediately, without wasting money on supervision.
He said: "We're talking about a medium that's designed to reach out specifically to young people. We have real difficulties in getting them engaged. This is clearly a real success story.
A police update on Tuesday said a south Tandridge man was in Staines custody "answering some questions about the calling card he left at a property".
One Facebook user wrote in response: "Blimey you lot are ON IT."
Another police update said: "Our big key was used again in the early hours of this morning. This time on Caterham Hill... one on their way to old bill towers for drugs."
Another follower commented: "Its [sic] great to know how awesome u guy and gals are!"