Addlestone 'overdose' crack house boarded up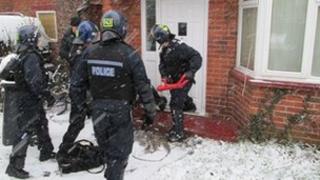 A crack house said by police to be at the heart of drug abuse in a Surrey borough has been shut and boarded up.
Police said officers were called to the house in Liberty Lane, Addlestone recently after a visitor who had taken an overdose nearly died.
A number of raids had previously been carried out at the council property.
The occupants were removed from the house and it was secured after a closure order was granted by North Surrey magistrates on Wednesday.
Anyone entering the house before the order expires on 21 August could face a fine or prosecution.
"This property has been right at the heart of drug abuse in Runnymede for a number of years," said PC Duncan Saunders.
"We have tried working with the occupants and associates to get them to address their behaviour, but ... the drug selling, usage and unremitting anti-social behaviour has continued."
Runnymede Borough Council said it was concerned that its property had been used for illegal drug activity.
"The council will continue to work closely with Surrey Police to apply to the county court to obtain possession of the property," said tenancy management officer Jenny Tilling.