Epsom Derby jockey 'haunted' by suffragette death myth?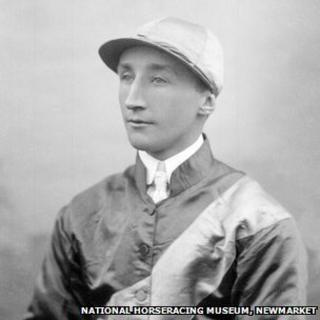 Stories a royal jockey was haunted by the face of a suffragette after his horse struck and fatally injured her are "utter rubbish", his son says.
On 4 June 1913, as the horses thundered around Tattenham Corner during the Epsom Derby, Emily Davison rushed onto the course and was hit by King George V's colt, Anmer.
"The horse knocked her down, and then turned a complete somersault on its jockey, Herbert Jones," The Morning Post reported the following day.
"The woman, who had a Suffragist flag wrapped round her waist, and whose name is Emily Wilding Davison, is in a very serious condition in Epsom Cottage Hospital," the report continued.
'Brutal lunatic woman'
King George V wrote in his diary that "poor Herbert Jones and Anmer had been sent flying" on a "most disappointing day".
Queen Alexandra sent Jones a telegram wishing him well after his "sad accident caused through the abominable conduct of a brutal lunatic woman".
Emily Davison died four days later in hospital from internal injuries and a fractured skull.
The debate continues about whether Ms Davison meant to kill herself, or was merely trying to attach a suffragette ribbon onto the King's horse as a protest.
Jones was unconscious for a short time and suffered from concussion. He also needed to wear a sling on one arm for some time afterwards.
The King's jockey was invited to Davison's funeral, but his injuries stopped him from attending.
Within two weeks of the Derby, he was back riding Anmer for the King at Ascot.
On 17 July 1951 Jones's son found his father's lifeless body in his gas-filled kitchen.
The story that the 70-year-old Herbert 'Bertie' Jones killed himself after being "haunted by that woman's face" all his life has been refuted in a book by Michael Tanner.
Towards the end of his life Jones became deaf and suffered from two strokes.
Mr Tanner, a sports writer who specialises in horse racing, said: "His wife's death and his deafness caused him to take his life."
John Jones said stories of his father being "haunted" by Davison's face were "an utter load of rubbish".
Mr Tanner, author of Suffragette Derby, described the jockey as "very gregarious, happy and contented and interested in local football and cricket and a keen gardener" until his hearing began to fail.
He said his research had suggested that the story of him being "haunted" by Davison's face had only been around for the last 10 to 15 years.
In 1934, a feature on the 1913 Derby by Herbert Jones, thought to have been ghost written, appeared in the Sunday Express.
"There's nothing in there that alludes to him being "haunted" by Davison," Mr Tanner said.
"It's rubbish - it didn't ruin his life, as his children have told me."