Vann Lake nature reserve dam work to start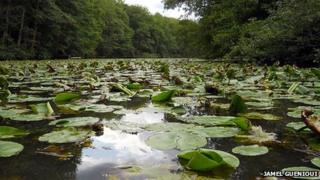 Work is set to begin repairing a reservoir and dam in a Surrey nature reserve at a cost of about £200,000.
Vann Lake reserve near Ockley is home to dormice, crested newts and several rare species of bat.
Surrey Wildlife Trust said that extensive repairs were needed to the dam, after work carried out in 2000 proved ineffective.
Work is scheduled to begin on 10 June and take about three months with wildlife being moved from the site.
The site is part of the Vann Lake and Ockley Woods site of special scientific interest.
Surveys identified over 800 species of fungus, 17 different dragonflies and damselflies, more than 200 butterflies and moths, 55 bird species as well as a number of "notable" species of bats, the trust said.
The lake has a capacity of 55,000 cubic meters (12 million gallons) and the work is being carried out while the water levels are at their lowest.