Laura Trott: 'Surrey played big part in 2012 success'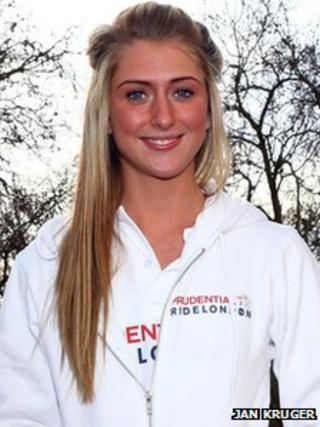 Olympic double gold medal winner Laura Trott has spoken of the part Surrey played in the success of the 2012 cycling road races and time trials.
Trott said: "Being part of the Olympic Games on home turf is something I will never forget.
"Surrey certainly played a big part in its success, especially in the cycling."
Hundreds of thousands of people turned out for the Olympic 2012 road races and time trials in Surrey last summer.
Trott was speaking ahead of a cycling festival on August 3 and 4, which will see some 20,000 cyclists ride through the county.
'Lasting legacy'
The highlight will be a 100-mile (160km) race from London to Surrey.
Trott added: "This event has already left a lasting legacy and I'm looking forward to seeing 20,000 inspired amateur cyclists tackle the 100-mile route across London and Surrey this summer."
Starting in the Queen Elizabeth Olympic Park, the route will pass many of London's iconic landmarks, before heading through Richmond Park and out into the Surrey Hills.
The ride will also include a steep climb up Box Hill and Leith Hill before returning to finish at The Mall in central London.
The penultimate stage of the Tour of Britain cycle race will also be held in the county in September, starting in Epsom and finishing in Guildford.
In May government figures showed showed 20% of people in Surrey now ride a bike at least once a month, compared with the national average of 15%.