Surrey hospital's maternity area gets £150,000 makeover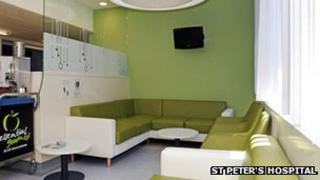 The communal area of a ward used by women before and after having babies at a hospital in Surrey has been given a £150,000 makeover.
St Peter's Hospital in Chertsey was one of more than 100 hospitals in the UK to bid for government funding to improve the birthing environment for women.
Associate director of midwifery, Sandra Houston, said the area on Joan Booker ward had been in need of an update.
She said it was now "much brighter, modern and welcoming".
Ms Houston said improvements had also been made to the "home from home" rooms on Labour Ward, which now had one of the latest birthing slings, enabling women to maintain more comfortable upright positions during labour and birth.