Opening date set for new Walton Bridge over Thames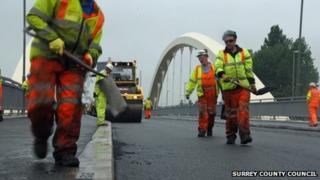 The first new road bridge over the River Thames for more than 20 years will open to traffic next month, Surrey County Council has said.
Finishing touches are currently being made to the £32m Walton Bridge, linking Walton-on-Thames and Shepperton.
Roads in the area plagued by delays will be subject to closures before the opening of the new bridge on 22 July.
The council said delays were possible while the A244 was realigned. Walton Lane will be closed before the opening.
The new bridge, described by the council as a landmark for the area, replaces two temporary bridges connecting Walton and Shepperton built when an earlier bridge was damaged in World War II.
'Major event'
The scheme was put on hold in the 2010 government spending review, but finally got the go-ahead later that year.
Councillor John Furey said the bridge opening was a major event.
"There has been some controversy," he said.
"There has even been a demand that a bishop bless it - the problem is that on one side of the bridge you have the Bishop of London and on the other side you have the Bishop of Guildford."
The last new road bridge over the Thames opened in Wallingford, Oxfordshire, in 1993.
The most recent in the London area was the Queen Elizabeth II Bridge, part of the Dartford Crossing, which opened in 1991.