Leatherhead pothole campaign over Woodlands School road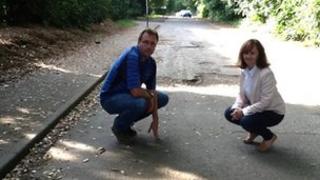 More than 1,000 people signed a petition calling for pothole repairs on a road used by minibuses for disabled pupils at a school in Leatherhead.
The road is private and "unadopted", not maintained by Surrey County Council.
Campaigner Mark Francis said the location of the Woodlands School made the road a council responsibility.
The county council said it was aware of the problem and trying to work with residents.
Mr Francis said 21 buses from across Surrey carried children with complex learning and physical disabilities to Woodlands each weekday and the children "winced" each time the buses hit a pothole.
He said: "When you've got a school like Woodlands at the end of the road which is a county school that has buses from all over the county coming every morning, with disabled children in those buses, it is a Surrey County Council issue."
'Long dispute'
He said campaigners had two aims, to "inspire" the council to make urgent repairs and to convince the authority to adopt the road as a permanent solution.
Woodlands caters for pupils aged from two to 19 with severe learning difficulties, in two adjacent units.
County councillor Clare Curran, who is chairman of the Mole Valley local committee, said there had been a long history of dispute between the residents and the county council.
But she said: "Fortyfoot Road really is in a dreadful condition, and it does urgently need repair."
Ms Curran said the road was privately-owned with many different interests in the land including householders, public bodies, the school, a residential care home for the elderly, a bowls club and a play group, and it was a complex legal matter.
She said she wanted to work with the action group, residents and her council colleagues to try to get the road fixed and find a long-term solution.
The owners of a private road would normally be responsible for its repair, but council officers were investigating the issue, she added.