Retiring Surrey police officers save almost £1m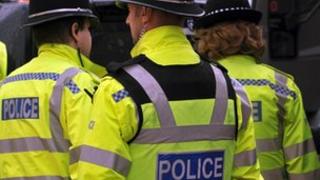 The retirement of 15 senior officers has saved £900,000 in salaries, Surrey Police say.
Stuart Cundy, the Assistant Chief Constable, said the force had made savings of £37m over the last four years.
The senior officers retiring range from inspectors to chief superintendents.
Police Federation has claimed it has led to some experienced officers "with a promising career" being forced to retire.
Officers who have served for 30 years can be forced to retire under the Police Pensions Regulation if their retention would "not be in the general interests of efficiency".
Simon Moxon, from the Surrey Police Federation, said some officers could be "forced to retire at the age of 48" because of cuts in government funding to police forces.
He said: "There are some officers who would have stayed on if they were given the chance.
"With a promising career and all their experience - they're just having to leave."
Kevin Hurley, the police and crime commissioner for Surrey, said; "We want to maintain the number of constables on the streets and the only way we can do that is to reduce the overheads of managers.
"We're concerned there is a loss of experience, but in the end we need people answering the 999 calls."