'Prizes manipulated' by Thorpe Park stalls company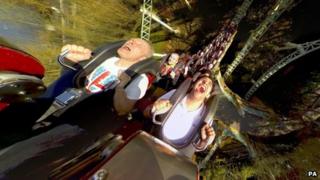 A company has been accused of manipulating the number of prizes won at its stalls at a Surrey theme park by distracting customers.
HB Leisure which manages the stalls at Thorpe Park is also accused of using wax to increase friction on surfaces.
An undercover BBC investigation indicated staff were encouraged to try to make a certain amount of money before each prize was given out.
The company denied that its games were unfair.
The investigation was carried out by the BBC One consumer programme Your Money Their Tricks.
Wax was allegedly used to make it harder for players to knock over blocks, and stallholders were said to have given customers a different type of ball to the one they were originally shown.
'Appropriate action'
The staff are employed by HB Leisure Ltd, which manages the stalls at Thorpe Park, Alton Towers, Legoland and Chessington World of Adventures.
A HB Leisure senior manager was caught on camera admitting that employees were "increasing the difficulty level" for some customers.
A spokeswoman for Thorpe Park said: "We would never condone any activity on the park which was proven to mislead or in any way disadvantage our guests.
"Given these games are operated by third party suppliers - as the programme makes clear - as soon as we were made aware of the allegations... we contacted them and began our own extensive investigation.
"This investigation is ongoing but if we find any evidence of malpractice we will take swift and appropriate action against both any individuals concerned and the supplier company."
'Totally untrue'
Alex Sparks, managing director of HB Leisure, denied that its games were unfair, and criticised the investigation for presenting "rare and now-remedied incidences" as regular practice.
He said: "We utterly refute any suggestions that any of our games are not fair and we had provided detailed information, explanations and evidence to the programme, in advance, to prove this.
"But the BBC decided to ignore much of this information and has therefore presented a biased and incorrect view of the games.
"It is totally untrue to say that games are manipulated to make people lose.
"The programme itself states that there are times when we make the games easier but presents this as a bad thing, which we - and we believe, our customers - can only see as a benefit."
Mr Sparks said HB Leisure had given out more than 100,000 prizes at Thorpe Park, which "in retail value is 50-60% of the money spent by the customers who play the games".
He insisted that the company had provided "detailed responses" to all the claims made by the BBC programme.
"We found that in almost all instances the programme had fundamentally misunderstood how the games worked and so we were able to explain and answer their queries in great detail," he said.
"The rare instances where staff behaviour or games fell below standard were immediately checked and remedied."
A BBC spokeswoman said: "We stand by the programme."
Your Money Their Tricks was broadcast on BBC One at 20:00 BST on Wednesday 3 July and will be available on the BBC iPlayer.