Southern Pro Musica to provide classical music in Guildford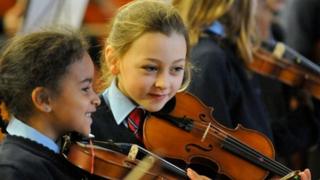 Funding for a freelance chamber orchestra to provide classical music in Guildford for four years has been approved.
Southern Pro Musica will receive an annual grant of £60,000 until 2017 from Guildford Borough Council.
It comes after the council decided to stop Guildford Philharmonic Orchestra's £190,000 grant last year.
The authority said the orchestra would provide "high quality classical concerts for our local audience".
The now-discontinued Guildford Philharmonic had been funded by the council as part of its arts provision since the orchestra's inception in 1945, when it was the Guildford Municipal Orchestra.
The council said it had cost 2% of council tax income.