Box Hill cycling events leave residents 'trapped'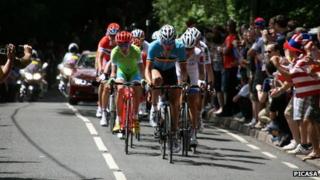 People living along the Surrey route of the London 2012 road race often feel trapped in their homes during cycling events, a local councillor says.
The number of rides involving hundreds or thousands of cyclists has increased dramatically since last summer.
Last month saw thousands of cyclists race though Mole Valley in opposite directions during two different events.
The county council is now exploring how events can be regulated, said councillor David Preedy.
Mass-participation cycling events, called sportives, attract hundreds and sometimes thousands of cyclists.
They are not formally regulated and the local council or police do not have to be informed.
Mr Preedy, Liberal Democrat councillor for Headley and Box Hill, said the main problem was the "sheer number" of cyclists.
"Every weekend there are hundreds and hundreds of cyclists and then on top of that, big organised events," he said.
"The pressure on residents is just getting too much, they're feeling imprisoned, they can't get out.
"A lot of them, particularly in Box Hill, are older people who feel intimidated driving through large numbers of cyclists."
'Frightened to drive'
He said there needed to be recognition of the pressure that residents were under, and that a change of regulation may be necessary.
Mr Preedy said all events needed to be registered and that people should know that they were happening.
"They have to give residents a break," he said.
"I welcome a number of events but we have got to get some of the organisers to look at limiting how many events they have so residents don't feel imprisoned in their houses, aren't frightened to drive out every weekend, and aren't intimidated by cyclists."
Gordon Seabright, chief executive of the cycling charity CTC in Guildford, said cyclists and all road users had a duty to be responsible and considerate.
"We hope that participants in sportives do that, but I'd also say that it's great news for Surrey and great news for all of us if there's lots more cycling going on," he said.
About 400 women took part in the Cycletta Surrey on Sunday, a ride organised by Human Race which began at Loseley Park.
Race director Rob Hillman said the events company informed councils, parishes and neighbourhood networks of its races in advance.
"The primary task for us when organising any of these events is safety, and that has to be the benchmark we go on," he said.
"We would definitely embrace regulation.
"There are huge numbers of cyclists, both recreational and within organised events, who are out on the roads and a degree of regulation would help us all."