Chobham Common blaze suspected arson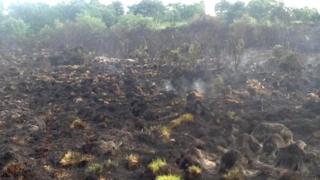 A suspected arson attack at a nature reserve has destroyed five acres (two hectares) of heathland.
The fire at Chobham Common, off Staple Hill in Surrey, started at about 21:40 BST on Monday.
The heathland is home to more than 300 plant species and is managed by Surrey Wildlife Trust, which said the fire had badly damaged the protected site and would have killed reptiles and snakes.
The fire service said suspicious activity had been reported in the area.
Rare bird nests
Natural England has described the nature reserve as one of the most ancient types of British landscape.
The plant species found on the common include insect-eating sundews and several types of orchid.
Steve Fry, senior ranger from Surrey Wildlife Trust, said he was reluctant to describe the fire as arson but suspected either someone had lit a small fire "for whatever purpose", or had deliberately wanted to see what would happen if they set light to the heath.
He said: "The tragedy of wildfires at this time of year, deliberate or not, is that the wildlife isn't really geared up to cope with any kind of wildfire, so there's little doubt that it would have affected things like our reptiles and lizards and snakes.
"And it's very possible that it might have actually burnt out a couple of territories of quite a rare bird called Dartford warbler."
'Charred reptile bodies'
He said it was likely young birds had already left their nests, but added: "You get small creatures and insects which have no escape from something like a fire."
He said some reptiles would have lost their habitat but some would have died and, after a wildfire, it was "literally a case of finding charred bodies over the landscape".
It would take time for the landscape to return to normal and for habitats to be restored, he added.
According to Mr Fry, detailed fire plans had been formed for the site after a large blaze at Thursley a few years ago.
He said the plans allowed the fire service to respond with a minimum number of vehicles and ensured they could access the site within minutes.
Crews extinguished the fire, which was on a steep slope, within about two hours but remained at the scene to make sure it did not reignite, he added.
Specialist wildfire officer Alan Grant, from Surrey Fire and Rescue Service, said it was more than likely the fire had been started deliberately.
He said witnesses had reported youths in the area and the fire service was working closely with Surrey Police to investigate the incident.
The fire officer warned people enjoying the hot weather to think about safety and not to use disposable barbecues or discard cigarette ends.
He also urged people to report any inappropriate or anti-social behaviour to the fire service or police.