Guildford's Magic Summer hopes to grow in second year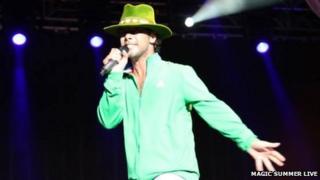 Talks are being held about whether a new Surrey music festival will be a long-term event after the site remained half full over its first weekend.
Organisers said between 10,000 and 12,000 tickets were sold each day for Magic Summer Live in Guildford.
"With our licence we could go up to 25,000 but realistically in year one you are not going to achieve that," said director John Revell.
"We can go to that as we grow the festival."
Magic Summer Live, held in Stoke Park, was headlined by Jamiroquai on Saturday and Bryan Adams on Sunday.
Other acts included Joss Stone, Ocean Colour Scene, Level 42 and The Overtones.
The festival, run by Live Nation and Magic 105.4, replaced three-day Guilfest, which had been running for 21 years.
The company running Guilfest went into liquidation in September, blaming poor ticket sales in wet weather in 2012.
Mr Revell said he expected it to take about three years to build up ticket sales for Magic Summer Live.
Audience numbers for the first year were in line with forecasts.
"It is different from some of all the really big festivals - we never want it to be a 60,000 capacity event," said Mr Revell.
"We are creating something that has a relaxed family feel.
"We achieved very much what I was hoping for with the vibe - all the artists said what a lovely feel it had.
"We can bring a level of acts that Guilfest could never get."
Surrey Police said one person was arrested at the festival for being drunk and disorderly and given a fixed penalty notice.
Mr Revell said he could not give details about whether the festival broke even because information was still being collated internally.
Live Nation and Magic 105.4 will be holding debriefing meetings this week and Mr Revell said he would love Magic Summer Live to go ahead next year.
"The first thing we have to do is sit down with the council," he said.
"If the the council are happy we can work out a longer-term deal with them and once that's agreed we can start booking artists.
"Once we get those headliners in place we can then announce the festival for next year."