Surrey County Council urges Crossrail 2 support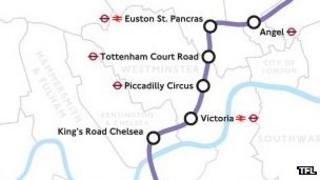 Surrey County Council has urged its residents to back an option in the proposed Crossrail 2 project which would see trains coming to the county.
The proposed Crossrail 2 line would relieve the Victoria line and parts of the Piccadilly and Northern Tube lines.
The government has provided £2m for a feasibility study and Transport for London (TfL) is consulting on it.
There is an option to see trains running from Surrey in the south west to Hertfordshire in the north.
The proposal has been supported by John Furey, cabinet member for transport and environment, who said the scheme would reduce train overcrowding.
He said: "Surrey has some of the most overcrowded trains in the country, with the 07:32 service from Guildford to Woking the second busiest train nationwide."
The other Crossrail 2 option would see the scheme only based in London, going from the south west of the city to Alexandra Palace in the north.
The online consultation will run until 2 August.