Surrey Magna Carta celebration plans approved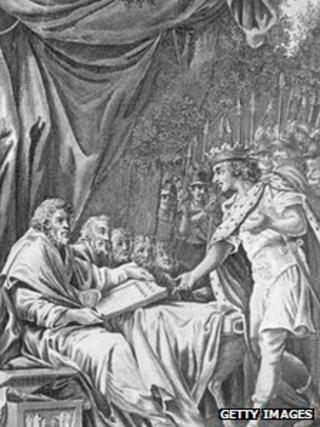 Egham is to be branded "the gateway to Magna Carta country" under plans approved by Surrey County Council.
The authority's cabinet has agreed to contribute £1m to the £8.3m estimated cost of a local Magna Carta anniversary celebration.
The Conservative-run council said the celebration would boost the region's economy by millions of pounds through tourism.
Magna Carta, meaning Great Charter, was agreed at Runnymede, Surrey, in 1215.
The document is seen as the cornerstone of Britain's constitution, outlining a set of basic rights.
Events are being organised across the world to mark the 800th anniversary of its sealing in June 2015.
'Blank cheque'
Surrey County Council said it wanted to ensure Runnymede was the focus of the national celebration.
The authority wants to "create a brand" promoting Egham, including Englefield Green and Wraysbury, as "the gateway to Magna Carta Country".
The charter is believed to have been sealed at Runnymede Meadows, where the authority wants to improve access and introduce walking trails along the Thames.
"Runnymede is recognised as the birthplace of liberty," the council report into the proposals said.
"Failure to improve the visitor offer and play a central and fitting part in the 800th anniversary celebrations will be reputationally damaging and a unique opportunity lost."
In January, the council withdrew a £5m contribution to the building of a visitor centre on the site where the Magna Carta was sealed.
The authority said it was not sure the centre near Runnymede Meadows would open by 2015.
A council spokeswoman said the authority had been specifically asked for £5m for the axed project by the borough council.
She said money was now tight and the new plans were "a totally different set-up".
John Orrick, the Liberal Democrat spokesman for communities on the council, said the decision to support the multi-million pound celebration was "signing a blank cheque".
"What has been agreed by the Conservative cabinet is a large amount of taxpayers' money based on a report with only a very vague outline of what is being planned and how it is being spent," he said.
A spokeswoman from the council said the celebration would bring "big benefits" for business, education and culture and help to regenerate Egham town centre.
The council said it planned to seek funding and bid for match-funding from the Heritage Lottery Fund.
The authority is joining forces with organisations including Runnymede Borough Council, the National Trust, Brunel University and the Magna Carta 800th anniversary committee.