Woking Palace fire started by arsonist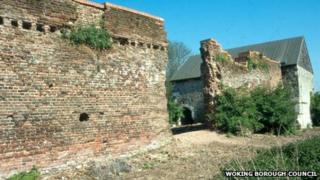 An arsonist has set fire to Woking Palace in Surrey.
The firestarter set the blaze in the main doorway, before leaving the scene, at about 10:00 BST on Thursday.
The palace was originally owned by Henry VII's mother, Margaret Beaufort, and improved and expanded by Henry VIII and Elizabeth I.
The palace is designated as a Scheduled Ancient Monument and a Site of Special Scientific Interest. Last year it was attacked twice by arsonists.
Police urged anyone with information to contact them.