Police shooting of Knaphill man Richard Pell 'justified'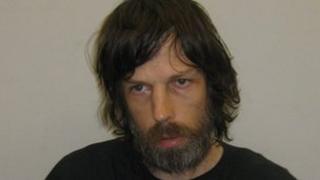 The police shooting of a man in Surrey was justified in the circumstances, the Independent Police Complaints Commission (IPCC) has concluded.
Richard Pell, 41, was shot in the upper leg in Knaphill last July after armed officers responded to reports that he intended to harm himself and others.
He was later jailed after he admitted possessing an imitation firearm with intent to cause fear of violence.
The IPCC said he had been deliberately trying to provoke officers to shoot.
Black BB gun
Three emergency calls were made to Surrey Police by Pell during the evening of 25 July 2012 stating he had a gun and a bomb and was going to blow up his home address in Oak Tree Road, Knaphill.
A member of the public also went to Woking police station and showed officers text messages she had received from Pell repeating the threats.
An armed response team was sent to the property, where Pell emerged from the side door and raised what appeared to be a handgun towards them.
One officer fired a single round which struck Pell in the upper leg.
A weapon recovered from the scene was identified as a 6mm BB gun which had been painted black.
'Professionalism and courage'
No explosive devices were found.
The matter was referred to the IPCC and following an investigation, Commissioner Jennifer Izekor said the decision to shoot Pell had been "justified and reasonable in the circumstances to protect the general public and the officers".
However, the IPCC said its investigation had found operational points of learning for Surrey Police which the force had responded to.
These were that the strategic commander should have been informed of the deployment to Pell's home earlier in the incident and a tactical advisor should have been notified.
The Chief Constable of Surrey Police, Lynne Owens, welcomed the findings.
"It should never be underestimated how our officers willingly put themselves in harm's way on a daily basis to protect the public.
"The officers in this case displayed the utmost professionalism and courage," she said.
Pell was jailed for four years at Guildford Crown Court last November.