Hampton river death: Teenagers describe rescue bid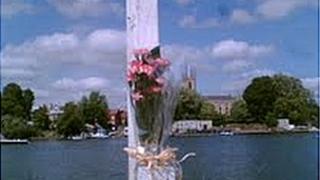 Two teenagers who tried to save a man who died in the River Thames at Hampton have talked about their attempted rescue bid.
Pete Sullivan and Jack Sweeney, both 15, saw the man swimming in the river and starting to struggle.
They dived in to try to help him but were unable to find the man, they said.
Surrey Police have not yet released the identity of the man and are working to find his next-of-kin. Residents in Molesey have praised the two teenagers.
Tributes were left at the scene on Friday, a day after the man's death.
'Did all they could'
Pete said: "Me and my mates were sitting down by the river. We saw a man swimming across the river and he looked like he was struggling."
He said the teenagers first thought the man might make it across but they then saw him go under the water.
"We ran over to the riverbank and dived in and swam across to see if we could help him after he'd gone in," he said.
Jack said he started getting changed to go into the water as soon as he saw the man starting to struggle.
He said: "I ran and dived in and swam all the way over there and was searching for him but couldn't find him."
The teenagers spent half an hour looking for the man and were also joined by other members of the public.
The Metropolitan Police said a woman and three men were safely recovered from the water near Hampton Sailing Club on Benn's Island on Thursday, but the body of the man who died was recovered later that day.
Molesey resident Paul Gossage said: "I think I speak for the majority of people in Molesey when I say that we have been very moved by the tragic loss of a valuable life by drowning in the Thames.
"However, we have also been so impressed by the courage of the two lads who tried so hard and did all they could to try to save a life."