Basingstoke Canal fish rescued from oxygen-starved water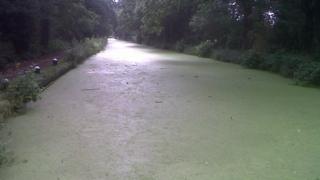 More than 2,000 fish had to be rescued from an oxygen-starved stretch of canal in Surrey.
Environment Agency officers moved roach, pike, tench, perch and bream from the Basingstoke Canal at West Byfleet, which was covered in duckweed.
The aquatic plant thrives in hot and sunny conditions and can cause oxygen levels in the water to drop.
An Environment Agency spokeswoman said local anglers alerted them to the problem via their emergency hotline.
She added: "Fish species such as roach, pike, tench, perch and bream were captured and transported in an oxygenated tank to a clear section of the canal with higher oxygen levels."