Arch to mark Reigate and Redhill anniversary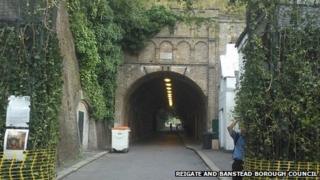 A floral arch is to be built to mark the 150th anniversary of Reigate and Redhill being granted municipal borough status by Queen Victoria in 1863.
The arch in Tunnel Road, Reigate, is a recreation of one made for a visit by the monarch to the town in 1837.
At that time, Queen Victoria passed through the town and changed horses at The White Hart Hotel on her way to Brighton Pavilion.
The arch is being reproduced as part of a summer programme of events.
The new queen was 18 years old when she visited the Surrey town. Years later in London, in 1863, she would sign the Royal Charter of Incorporation for Reigate and Redhill.
That led to the introduction of democratically elected local government in the area.
'Modicum of democracy'
John Capon, from the Reigate and Redhill 150 Group, said: "By putting up a floral arch, which spanned Bell Street, that was the way in which they recognised their queen and the visit which she paid."
He said that until 1863 Reigate had been ruled under a feudal system, with two lords of the manor.
"There was a modicum of democracy, but it was only open to landowners of some substance and this meant that there was a number of small boroughs in the area and there was no co-ordination between them."
He said the two lords of the manor had opposed a local campaign for municipal borough status.
"Within 10 or 20 years [of incorporation] we had everything - electricity, gas, sewerage, a fire brigade and a police service," he added.
Mayor of Reigate and Banstead, Councillor Lynne Hack, said: "The events to celebrate the anniversary have so far been fantastic and we have so much more to look forward to."
This story was amended on 18 August.