'Unclear' Surrey Magna Carta plans under spotlight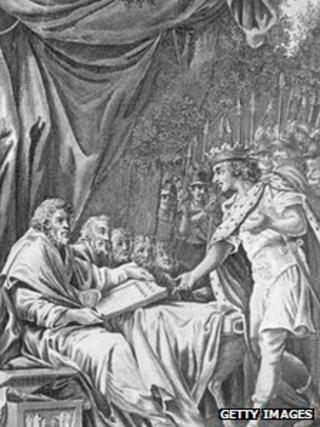 Plans to spend £1m of council money on celebrations in Surrey for the 800th anniversary of the Magna Carta will go ahead after being reviewed.
Surrey County Council's (SCC) cabinet decided last month to contribute the cash to the £8.3m estimated cost of a local Magna Carta celebration.
Egham was to be branded "the gateway to Magna Carta country" at Runnymede.
However, the decision faced scrutiny earlier after being "called-in" by four council members who raised concerns.
The councillors said the plans lacked detail or clarity.
The communities select committee reviewed the plans and decided not to refer them back to the council's cabinet.
Magna Carta, meaning Great Charter, was agreed at Runnymede in 1215 and is seen as the cornerstone of Britain's constitution.
'Vague outline'
Events are being organised across the world to mark the 800th anniversary of its sealing, in June 2015, and SCC said it wanted to ensure Runnymede was the focus of the national celebration.
It said it wanted to improve access and introduce walking trails along the Thames near the site.
The all-Conservative cabinet approved the £1m expenditure and proposals to bid for cash from the Heritage Lottery Fund.
But John Orrick, the Liberal Democrat spokesman for communities, said the decision to support the multi-million pound celebration was "signing a blank cheque".
He said there was only a very vague outline of what was being planned and how taxpayers' money was being spent.
He and three other members - one Labour, one independent and one Tory - forced the decision to be "called-in" for further consideration.