Taskforce to see how Caterham 'eyesore' can be redeveloped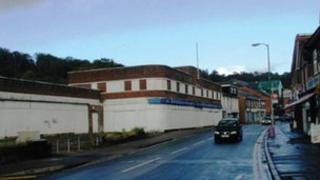 A council in Surrey plans to set up a taskforce to see how a run-down "eyesore" can be redeveloped.
The former Rose and Young car showroom in Caterham has stood empty for almost 20 years.
In May, the owner was fined for failing to improve its appearance.
Tandridge District Council said a group would be proposed at a planning policy meeting next month to review all attempts to redevelop the site.
In January, planning consultants exhibited four options for the site in Croydon Road, and said retail units and flats would bring the most benefit.
A formal planning application was expected to be submitted in the spring.
But this did not happen because the consultants said a land contamination assessment had to be carried out first.