Guildford festival: Rivals bid to run 2014 event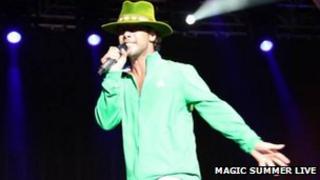 Two rival bidders have submitted proposals to organise the annual music festival in Guildford next year.
Live Nation, which ran two-day Magic Summer Live in Stoke Park, in July wants to hold a festival in 2014.
The other bid involves Tony Scott, whose company Scotty Events ran Guilfest for 21 years until it went into liquidation in 2012.
Guildford Borough Council is meeting both organisations in the next couple of weeks to discuss their plans.
Scotty Events collapsed after Guilfest 2012, which was plagued by the worst weather conditions in the festival's history.
The company, which was left with debts of about £300,000, also blamed intense competition from events elsewhere.
Reinstate park
Magic Summer Live, headlined by Jamiroquai and Bryan Adams, played to half-capacity crowds this year, but Live Nation said it hoped it would grow in the future.
Councillor Matt Furniss said the borough council, which hires out Stoke Park to festival organisers, was keen to promote music and the arts.
"It's really put Guildford on the map having an annual festival for the family and that's something we really want to continue," he said.
Taxpayers were left to foot the bill for reinstating the park after the final Guilfest.
Mr Furniss said that any future promoters would be asked to set aside a bond of between £20,000 and £50,000 to ensure the park could be repaired in future.
A meeting of the council on 10 October is to receive a petition, signed by over 4,000 people, calling for the return of Guilfest.
Mr Furniss said a final announcement on who would run next year's festival would not be made for some months.