Surrey academics' gallery phone app tracks visitors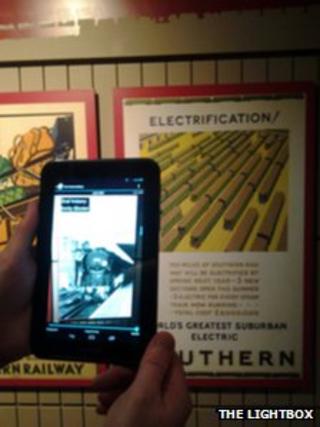 A phone app to be used by gallery visitors as they view exhibitions has been developed by academics in Surrey.
University of Surrey experts have tested the technology at Watts Gallery in Compton and The Lightbox in Woking.
The app lets gallery and museum visitors receive additional information on exhibits as they view them.
It also tracks visitors as they move around the exhibitions so galleries can plan their displays based on information about visitor behaviour.
Computing and tourism academics have developed the technology for handheld devices such as tablets or phones.
'Stocking the gift shop'
Senior lecturer in tourism, Caroline Scarles, said: "It allows museums and organisations to know how long people dwell in front of particular exhibits.
"Perhaps they had an exhibit that they felt was their most popular but actually the real-time information that we're gathering allows them to interpret that in a different way."
She said the app had many implications for galleries - from business and marketing strategies to how they stock the gift shop.
She also said the app could provide video, music and oral history to go with the exhibits on show - and also allow museums to show more of the contents of their archives than they had space to display.
Curators would be able to tailor information to different groups such as a school group or a specialist art history group, she added.
The app, which is currently a prototype, is being refined with the aim of finishing it in the next 10 months, she said.
It is hoped it will be used by museums and galleries.
Researchers are now looking at how to increase community engagement and visitor content.
The two galleries and university will be working with the tourism organisation Visit Surrey on the next phase of the project.