Sayers Croft Cranleigh roundhouse opens after arson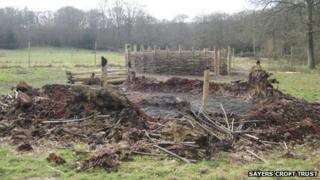 A reconstruction of an Iron Age roundhouse that was destroyed in an arson attack has had its "grand opening" after being rebuilt.
At the time of the attack, Surrey Police described the blaze as "a deliberate act of wanton vandalism".
Volunteers have rebuilt the roundhouse, which is run by the Sayers Croft Trust as an educational resource.
The thatched structure in Ewhurst Village, Cranleigh, opened on Sunday during Heritage Open Days weekend.
Each September, buildings open their doors to the public during Heritage Open Days with the aim of bringing local history and culture to life.
'Overwhelming response'
During the roundhouse rebuild, local people helped to gather hazel from woodland to use for the walls and roof.
The charity said local families, businesses, volunteers and students turned out to rebuild the "fantastic resource".
Community education officer Sarah Miles said the response from the public had been "overwhelming".
She said firefighters who put out the blaze after the arson attack were opening the new roundhouse on Sunday.
The remains of the original burnt roundhouse were left for local archaeologists who wanted to study how the real Iron Age sites would have decayed over time.
The charity has said local teenagers were responsible for the arson attack.