Sean Emmett: Ex-superbike racer stranded in Dubai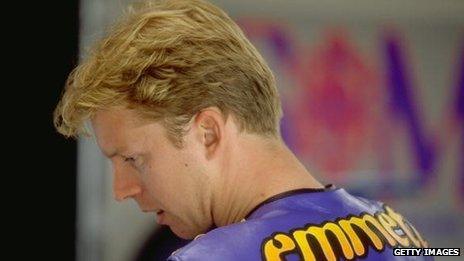 A former superbike racer who has been stranded in Dubai for seven months since his wife fell to her death has called on the UK government to help him return home.
Sean Emmett's wife Abbie fell to her death in the city in February. Her death was later recorded as suicide.
Mr Emmett, from Addlestone, Surrey, had his passport taken away and said he did not know why it had not been returned.
The Foreign Office said it could not interfere in the UAE's legal process.
Mrs Emmett, 27, died after falling from the window of their room at the Jumeirah Creekside Hotel on 19 February.
The couple had been in Dubai on a 48-hour stopover after their wedding and honeymoon in Cape Town, South Africa.
Dubai Police said they did not believe there were any suspicious circumstances.
But Mr Emmett, who won 19 British Superbike events during his career, was arrested when he went to a police station to complete paperwork relating to his wife's death.
His passport was confiscated and he was fined 2,000 dirham (£350) for drinking alcohol without a licence.
Mr Emmett said the British Consulate was helping as much as it could but its hands were tied.
"Because whilst the authorities over here just come back with 'we're still continuing our investigation', any other country can't really interfere with that process," he said.
"I said to them 'tell me what you're investigating, I'm under no charge, under no bail, you're just holding my passport and keep saying 'we still have an investigation to do'.
"I've got three children that I want to see and they want to see their dad. It's hugely frustrating."
In July, three Londoners who were jailed for four years each for drug offences in Dubai in April were pardoned under an amnesty for the holy month of Ramadan.
Prime Minister David Cameron had raised the case with UAE President Sheikh Khalifa bin Zayed during his state visit to the UK.
Mr Emmett said he had asked Runnymede and Weybridge MP and Defence Secretary Philip Hammond if he could represent him, but got a message from the Home Office saying that his case would not be brought up.
He said if he could speak to Mr Hammond, he would ask him he could bring up his case in the House of Commons.
He added: "For me, having done nothing wrong and then having to go through the stress that I've gone through and then having to sit here in Dubai knowing that my wife's funeral was going on without me... it's so unfair."
More than 3,600 people have signed an online petition asking the Foreign and Commonwealth Office to work with the Dubai authorities to organise Mr Emmett's return.
In a statement, the Foreign Office said: "We are providing consular assistance at this difficult time to the individual concerned and family.
"We cannot interfere in the judicial process of another country, and must respect their systems just as we expect them to respect the UK's laws and legal processes."
Mr Hammond said he was aware of the case and "following it through" but would not discuss it with third parties.
Dubai Police were unavailable for comment.
Related Internet Links
The BBC is not responsible for the content of external sites.