Cash-strapped Guildford Cathedral to sell land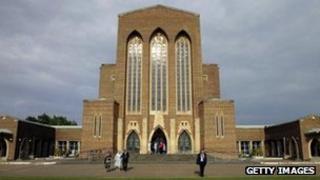 Guildford Cathedral is to sell off some of its land for housing in order to secure its financial future.
The Surrey cathedral costs £1.17m a year to run and is currently operating with an annual £100,000 deficit, the Very Reverend Dianna Gwilliams said.
She said the cathedral had never had financial security but the sell-off would give it a future.
Land on Stag Hill will be sold off for housing, and staff and clergy homes will be replaced, under the proposals.
The housing would be a mix of social and private housing, and a new Cathedral Close would accommodate cathedral staff.
Urgent repairs
Dean Gwilliams said: "Our belief is that fulfilling our strategy for 2020 will have a positive impact on Guildford as a whole by delivering much-needed affordable housing as well as creating a more welcoming and attractive environment: a centre of worship, culture, music, education and social activity."
She said the seven-year plan included providing enhanced public open space on Stag Hill, better links with the town centre and a major programme of urgent repairs to the cathedral
Public consultation will follow and the cathedral will be working with both Guildford Borough Council and English Heritage to ensure the plans are appropriate and sustainable, she added.
A tender process to find a developer is under way.