Sutton hospital loses services to Epsom and St Helier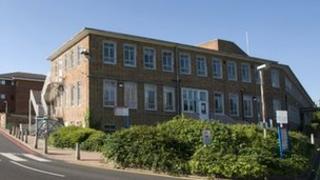 The smallest hospital in a south London trust is to lose 80% of its services to larger hospitals, under plans set out by Epsom and St Helier NHS Trust.
About 60% of services at Sutton Hospital will move to St Helier in London and about 20% to Epsom Hospital in Surrey, the trust said.
Project director Tim Wilkins said it would improve services, staff working environments and the trust's finances.
He said Sutton Hospital was the smallest and least used of its sites.
Sutton Hospital treats about 1,500 patients a week compared with nearly 8,100 at St Helier and nearly 4,900 at Epsom, and about 200 of the trust's 4,300 staff work at Sutton.
Drop-in sessions will be held at St Helier Hospital on Tuesday, and at Sutton Hospital on Thursday, when an NHS team will seek the views of members of the public.
Mr Wilkins said the trust had £4.5m available to move services and to upgrade facilities at Epsom and St Helier hospitals.
He said the drop-in sessions were being held before the trust finalised plans because the team wanted to ensure its changes met people's needs.
Making the changes would improve the trust's running costs by about £3m a year.