Surrey superbike racer Sean Emmett 'wife murder suspect'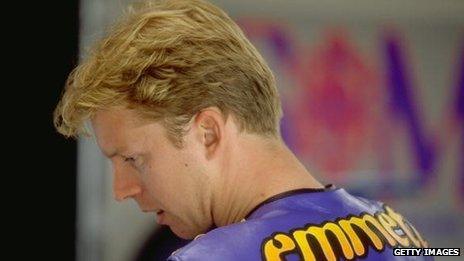 A former superbike racer who has been stranded in Dubai since his wife fell to her death in what was said to be a suicide now believes he could be at the centre of a murder inquiry.
Sean Emmett's wife Abbie fell to her death in the city in February while the couple were on honeymoon.
Her death was recorded as suicide but Mr Emmett, of Addlestone, Surrey, later had his passport taken from him.
He said he has been told local media will report he is now a murder suspect.
Mr Emmett told BBC London that there had been heavy coverage of his case since a media campaign in the UK.
He said an "expat" publication in Dubai had been asking him for an interview.
He said he declined to comment but this was followed later by a phone call from the British consulate saying the publication had contacted them "they're going to say - the front page is going to be 'Sean Emmett's under a murder inquiry'."
Mr Emmett has renewed his calls for the UK government to help him return home.
A statement issued by the Foreign and Commonwealth Office said: "We are aware of the case of a British national, Sean Emmett, in Dubai. We are providing consular assistance at this difficult time to the individual concerned and family."
Mrs Emmett, 27, died after falling from the window of their room at the Jumeirah Creekside Hotel on 19 February.
The couple had been in Dubai on a 48-hour stopover after their wedding and honeymoon in Cape Town, South Africa.
Mr Emmett, a father-of-three, who won 19 British Superbike events during his career, was arrested when he went to a police station to complete paperwork relating to his wife's death.
His passport was confiscated and he was then fined 2,000 dirham (£350) for drinking alcohol without a licence.
Related Internet Links
The BBC is not responsible for the content of external sites.