Dubai 'courts silent' over Sean Emmett honeymoon death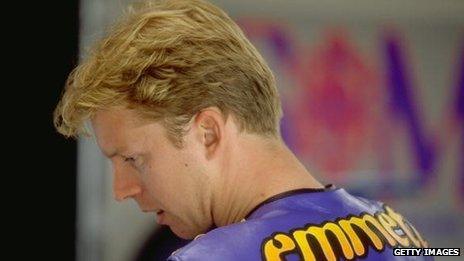 A former superbike racer who believes that he is now a murder suspect after the death of his wife on honeymoon in Dubai has said he has had no contact from police or prosecutors there.
Sean Emmett's wife Abbie fell to her death in the city in February.
Her death was recorded as suicide but the press in Dubai have said prosecutors are now investigating whether Mrs Emmett was murdered.
Mr Emmett, of Addlestone, Surrey, said he had not been arrested or charged.
'Million dollar question'
His passport was confiscated in March when he was fined for drinking alcohol without a licence but was not returned - he has been stranded in Dubai since then.
"I've been roaming around Dubai for seven months. I'm not charged with anything. I'm not on bail," he said.
He said the reason for him not being allowed to travel home was "the million dollar question".
"I've been to the prosecution. I've put appeal after appeal in and request after request with accompanying letters and statements."
He added: "I've done nothing wrong. I've not been charged with anything. I've paid all my fines. But all they've ever come back to me [with] is them basically saying 'we're still continuing our investigations'."
Mr Emmett said his wife had drunk more than two bottles of wine on the night she died.
They were travelling back from Cape Town to the UK with a 48-hour stopover in Dubai and had been celebrating at the end of their honeymoon.
In the early hours they had been smoking a cigarette out of the hotel room window when his wife dropped her wedding ring over the patio below, he said.
He said they tried to find it but returned to the room where Mrs Emmett had "gone from being mega-high and happy to not hysterical but really emotional".
"She kept leaning out of the window. I said 'please stop leaning out of the window like that'," he said.
He told his wife he would go and look for the ring again.
"I was by the door - bearing in mind we were in a big suite. I was looking at her and saying please stop leaning out of the window, I'm going to find the ring.
"The next minute her feet went up in the air and she was out of the window.
"I rushed to the window, looked down - obviously it was dark."
He said he went downstairs and spent 20 minutes trying to revive his wife before paramedics arrived.
Mr Emmett is due to speak to Philip Hammond, MP for Runnymede and Weybridge, about his case on Thursday morning.
A spokeswoman for Mr Hammond said: "We are fully engaged and doing our best to establish the full facts of the case and doing all we possibly can to assist him."
Simon Atkinson, BBC reporter in Dubai, said prosecution sources had told the UAE newspaper The National Mr Emmett could not leave the country because he was the chief suspect in a murder investigation into his wife's death.
He said police had told him the case was out of their hands and had passed to the courts.
Nobody at the Dubai Courts was available to comment to the BBC on Wednesday.
Related Internet Links
The BBC is not responsible for the content of external sites.