Frimley Park Hospital in £1.5m breast cancer fundraiser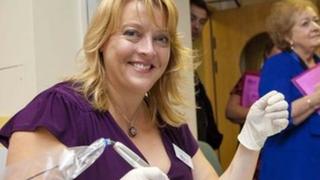 A hospital in Surrey has launched its most ambitious fundraising project to build a dedicated breast care unit.
Frimley Park Hospital's charity wants to raise £1.5m in three years for the unit equipped with the latest 3D diagnostic imaging equipment.
The hospital trust's board has pledged meet half the target if £750,000 can be raised in donations.
Consultant breast surgeon Isabella Karat said it was a long-held ambition to have a dedicated breast care clinic.
"I knew when I came here four years ago the one thing I wanted to provide was a dedicated area for breast cancer, which is the most common solid cancer of all," she said.
"One in four ladies in the UK will be referred to a breast unit, with one in eight receiving a breast cancer diagnosis.
3D mammography
"It is the busiest unit of many hospitals."
Ms Karat said breast care nurses currently have to see women in general outpatient rooms, making patients' privacy difficult to protect.
Fundraisers also aim to buy a 3D mammography and ultrasound equipment capable of diagnosing breast cancers at an earlier stage and in younger women.
"The figures nationally are showing that breast cancer is becoming more prominent in younger ladies and traditionally mammograms are only done after the age of 40," said Ms Karat.
"In ladies that have very dense or younger breasts we will now have improved-imaging in order to see more accurately within them."