Sean Emmett's 'nine-day wait 'to hear from Dubai prosecutors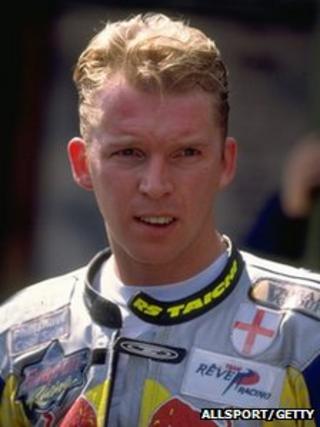 A former superbike racer says he has a nine day wait to be contacted by prosecutors in Dubai after his wife fell to her death in the city.
Sean Emmett has been unable to leave the country after his wife Abbie fell from their hotel room, in February.
Mr Emmett, of Addlestone, Surrey, had his passport confiscated but has not been arrested or charged over her death.
He met prosecutors earlier and is due to hear back next week.
Public sector workers in the United Arab Emirates have been given a seven-day holiday to celebrate Eid Al Adha, starting on Friday.
They are due to return to work on 19 October.
Mrs Emmett, 27, died after falling from the window of the couple's room at the Jumeirah Creekside Hotel on 19 February.
They had been in Dubai on a 48-hour stopover after their wedding and honeymoon in Cape Town, South Africa.
'Positive outcome'
Her death was recorded as suicide and Dubai Police said at the time they did not believe there were any suspicious circumstances.
But the Dubai media have reported prosecutors are now investigating whether Mrs Emmett was murdered.
Mr Emmett, who won 19 British Superbike events during his career, was arrested when he went to a police station to complete paperwork relating to his wife's death.
His passport was confiscated and he was fined 2,000 dirham (£350) for drinking alcohol without a licence.
His passport has not been returned and has been unable to leave the country.
Mr Emmett, who said he went for months without contact from police or prosecutors, finally met prosecutors on Wednesday and returned earlier with a local lawyer.
Speaking on Twitter, he said he had spent three hours recounting events.
Before the meeting, he said he was hopeful of a "positive and conclusive outcome".
The Dubai authorities were not available for comment.