Blind golfer Jim O'Brien hits 'incredible' hole-in-one at Hindhead Golf Club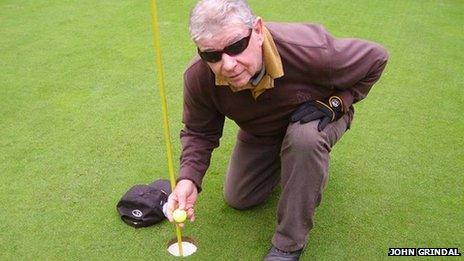 A blind golfer has a hit a hole-in-one during a tournament.
Jim O'Brien, from Market Harborough in Leicestershire, achieved the feat on the sixth hole at the Peter Alliss Eye2Eye Challenge at Surrey's Hindhead Golf Club on Wednesday.
The 71-year-old, who is fully blind and has been playing for 16 years, said, to his knowledge, he was only the third blind golfer to land such a shot.
Chris Donovan, the club's secretary, said it was an "amazing achievement".
Mr O'Brien said: "It's every golfer's dream, to do a hole-in-one especially if you're totally blind.
"When I teed off, I hit the ball nicely. The only thought I had in my head was, 'Let's hope it makes the green'.
"After a few seconds, the guys I was with said 'It's in the hole'. It was a great feeling - it's unbelievable."
The England and Wales Blind Golf Association has been holding the one-day tournament at the club for a number of years.
The blind players are helped by a sighted caddie or guide, who lines them up for shots.
Mr O'Brien, who has been unable to see since he was a child, was helped by his guide John Grindal.
Mr Donovan said the odds of a fully-sighted golfer hitting a hole-in-one were between 12,000 and 14,000-to-one.
"It's an amazing achievement for any amateur golfer, even more so for a blind player," he said.
Neil Baxter, chairman of the England and Wales Blind Golf Association, said that he knew of three totally blind members of the association who had hit holes-in-one, although others had also done it.
"There was a chap in Birmingham who got one earlier this year but we're not sure whether he was totally blind," he said.
"It's very, very rare and Jim is totally blind. We're all delighted about it."
Related Internet Links
The BBC is not responsible for the content of external sites.