Guilfest 'could return to Stoke Park in 2014'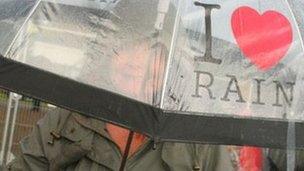 Guildford's music festival Guilfest could return next year if the organisers provide up to £50,000 upfront, the borough council has said.
More than 250 people attended a public meeting on Thursday to discuss whether the event should return.
A replacement concert was staged in Stoke Park this year after the firm which ran Guilfest was liquidated, owing £61,000 to the council.
Scotty Events blamed poor ticket sales for folding in September 2012.
The company was left with debts of around £300,00 which it blamed on the worst weather conditions in the event's history, which turned the site into a quagmire.
It also blamed intense competition from events elsewhere.
The council has now said it wants a hire payment up front for next year, a financial check on the organiser, and tens of thousands of pounds set aside for any damage.
Tony Scott, who organised the event previously, said he had been asked to put his application in as quickly as possible, which he said he would do.
He said he hoped to put Guilfest on next summer as the main event in Stoke Park.
Related Internet Links
The BBC is not responsible for the content of external sites.