Guildford Cathedral gets lottery cash instalment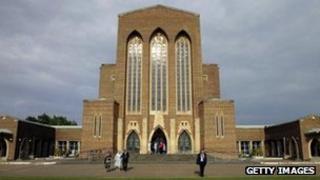 Guildford Cathedral has received the first instalment of National Lottery funding as part of a £7m appeal to raise funds for repairs.
A grant of £329,100 from the Heritage Lottery Fund (HLF) will fund work towards a bid for £4.5m for repairs to the building, to be made next year.
The cash-strapped cathedral has already said it plans to sell off some of its land on Stag Hill for housing.
Work to carry out urgent repairs is expected to start in 2015.
It will include removing acoustic plaster containing asbestos, from the ceiling.
'Building at risk'
There will also be an educational programme and improvements to the archives to upgrade the information and facilities for the cathedral's 100,000 annual visitors.
The cathedral has said it costs £1.17m a year to run and is currently operating with an annual £100,000 deficit.
"The building is at risk and this is a vital first step towards both its repair and to secure its future," said the Dean, the Very Rev Dianna Gwilliams.
"There is a long journey ahead but this initial grant is a real boost to us and represents the start of a new chapter."
Building work on the cathedral started in 1936 but was halted by WWII.
It started again in 1954, paid for by a buy-a-brick campaign to which 200,000 people contributed.
The building, known as "The People's Cathedral", was finally consecrated in 1961.
The awarding of the grant means the cathedral's meets the HLF criteria for funding. It has up to two years to submit the next stage of its bid.