Sikh contribution to the Army honoured in Sandhurst event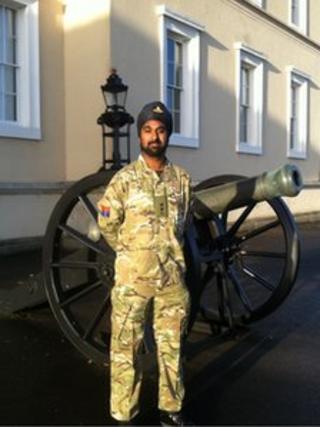 The historic contribution made by Sikh soldiers who fought for Britain has been marked by the Army at an event at Sandhurst Royal Military Academy in Camberley, Surrey.
Many thousands of Sikhs died fighting for the British Indian Army during both world wars.
"Today is really about commemorating the Sikh contribution to the armed forces both today and in the past," said Lt Col John Kendall, who organised the event at the Indian War Memorial room at Sandhurst.
"It is a story of loyalty, courage and selfless commitment," he said.
During the days of the British Empire, Sikh soldiers were highly regarded by British officers for their martial prowess, according to Dr Anthony Morton, curator of the Sandhurst collection.
Victoria Crosses
"Sikhs have played an important role in the British Army for 150 years," he said.
"In both world wars Sikh regiments fought for the British all over the world, even on the western front in the First World War and they distinguished themselves very well."
He said Sikh soldiers had won Victoria Crosses.
However, it is a contribution which many Sikhs in the UK believe is largely unrecognised, which is why author Jay Singh Sohal believes events like this are important.
"British Sikhs, third generation, fourth generation can take inspiration from the fact that their forebears fought for Great Britain," he said.
'War fighting machine'
Despite this long and distinguished martial tradition, there are only 265 Sikhs currently serving in the British Armed Services
Army leaders hope by celebrating the military contribution of their ancestors, more will be encouraged to serve.
Lt Jagjit Singh Mahwara shares that view.
He completed his officer training at Sandhurst three years ago and currently serves with the Royal Artillery.
He thinks Sikhs may have misconceptions about the armed services.
"Parents and children alike see the army as a war fighting machine," he said.
"But there is more - all work we do supporting civilian communities.
"People need to go out there and look at what we do in more depth."