Guildford survey highlights need for affordable housing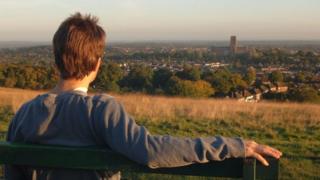 A Surrey town needs more affordable homes, cheaper public transport and more independent shops, a survey of young people has found.
A public consultation on Guildford's local plan has been targeting people between the ages of 16 and 35.
Many have suggested that greenfield sites are considered for building housing, but only after brownfield sites have been considered.
The borough council said all views will have to be considered.
Victoria Seabrook, 24, from Guildford, said: "I don't see myself staying here. There's not much chance of getting a job."
She said her peer group felt "a bit trapped", and there was not much for people in their 20s to do in the town.
"We need more affordable housing. It's regrettable there needs to be more development, particularly on greenbelt land, but we need to be more pragmatic about it all."
The council has been holding drop-in events for those aged 16 to 35.
Councillor Monika Junega, who is leading the survey, said: "Lots of young people are talking about the plan.
"Their views are different from those in their 40s, 50s and 60s who have their own homes.
"We have to balance and manage expectations."
Traveller sites
The last local plan was published in 2003.
The replacement, called Guildford 2031 by the council, will be issued in draft form in May for further public consultation before being submitted for approval in January 2015.
During the consultation sessions, young people highlighted a lack of job opportunities, particularly for unskilled teenagers who wanted greater access to work experiences and apprenticeships.
There was also a call for more police on the streets and better places for young people to sit and shelter in the town.
They also suggested there should be more sites for travellers in the borough.
About 150 people have been taking part in the sessions held during October and November.
The current public consultation is open until 17:00 GMT on Friday.