Chertsey hospital unit 'to avoid unnecessary admissions'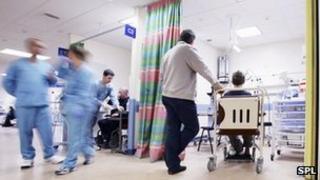 A new unit has opened at a Surrey hospital to improve emergency care and avoid unnecessary hospital admissions.
The unit at St Peter's Hospital is for patients who do not need immediate medical attention but need more tests or observation before being discharged.
The NHS trust said government emergency care advisors had recommended the unit to be set up at the Chertsey hospital.
Deputy chief executive Valerie Bartlett said it would enable better management of emergency services.
GP referrals
The new ambulatory emergency care unit had been set up opposite A&E at a cost of £280,000, and a formerly run-down area of the hospital had been made "modern and welcoming", she said.
Ms Bartlett said patients were being referred to the unit from A&E and the hospital's medical assessment unit.
But she said it was hoped GPs would be able to refer patients directly in the future.
She said: "The new unit enables us to manage our emergency services better and get patients to where they need to be more quickly.
"Those with urgent or life threatening conditions will continue to be treated in A&E and those requiring specialist assessment such as surgical or orthopaedic patients will still receive it."
But Ms Bartlett said the unit would help to "bridge the gap" and provide consultant-led care for patients who were not acutely unwell but needed further investigations before they could go home.
She said those patients would be treated in a better environment and more quickly, away from "a hectic A&E".