Redhill Aerodrome public inquiry under way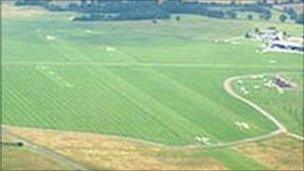 A four-day inquiry has begun into plans for a hard runway at Redhill Aerodrome to replace three grass runways.
Reigate and Banstead and Tandridge councils both rejected the scheme last year, saying the plans were inappropriate for the green belt.
The Surrey aerodrome is home to more than 20 companies and has been in operation for about 80 years.
Its owners say the new runway would create 120 jobs and secure the future of firms already at the business park.
They want to have the potential to increase flights from 60,000 to 85,000 a year.
Surrey Campaign for the Protection of Rural England is among the objectors giving evidence.
"We are objecting very, very strongly because of impact on the green belt, and the fact that the intensification that will lead to problems of noise, light pollution and increased traffic" said a spokeswoman.
Peter Forbes, chairman of Nutfield Conservation Society, said: "We quite happy to have a rural aerodrome within the local character but we don't agree with the change of use to a more intensified airport."
Earlier plans for a concrete runway were turned down in 2011.
Aerodrome boss Jon Horne has said the revised application reduces noise impact and the hard surface area and includes proposals to improve road safety and public transport connections.
Conservative MPs Crispin Blunt and Sam Gyimah have lodged formal objections to the development but businesses in the Gatwick area have backed it, saying refusal would stand in the way of economic recovery.
Related Internet Links
The BBC is not responsible for the content of external sites.