Dubai wife death superbiker Sean Emmett anger at arrest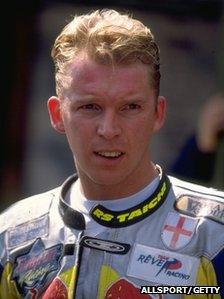 An ex-superbike rider held for months in Dubai over the death of his wife claims his arrest on return to the UK has made his life intolerable.
Sean Emmett, 43, of Addlestone, Surrey, was held on suspicion of murder when he landed at Heathrow Airport in December.
He claims he has been unable to see his daughter in Scotland and his phone and laptop have been seized while on bail.
Abbie Emmett, 27, fell from a window at Jumeirah Creekside Hotel in the Gulf state on 19 February.
In a series of tweets, Mr Emmett said: "How would you feel if your daughter could only see you if she travels from Scotland to see you cos ur on bail for nothing.
"My life is on hold and Surrey police should be ashamed. Mark my words I will name & shame all of them. I've been subjected to too much now."
'Investigation continues'
Earlier he tweeted: "Happy New Year all. Sorry I've been quiet but Surrey police took my phone and laptop. It's like Dubai all over again?"
A spokesman for Surrey Police said Mr Emmett had been arrested on suspicion of murder and released on bail while the force's investigation continued.
He is due to answer police bail in March.
The couple had been in Dubai on a 48-hour stopover following their wedding and honeymoon in Cape Town, South Africa, when Mrs Emmett fell from the window.
Her death was recorded as suicide and Dubai Police initially said they did not believe there were any suspicious circumstances.
But Mr Emmett, who won 19 British Superbike events during his career, was arrested when he went to a police station to complete paperwork relating to his wife's death.
In November he said the British Embassy had been notified by the Dubai chief prosecutor that his case was closed and he could return to the UK.
Related Internet Links
The BBC is not responsible for the content of external sites.